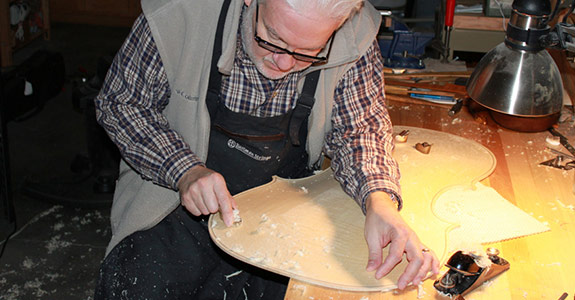 No matter your specific need, whether you're in the market for a new instrument, wondering about the value of an antique stringed instrument, or in need of violin repair in Clark County, WA, Mark Moreland Violin Shop can take care of you. Our decades of experience building, repairing and restoring breathtaking stringed instruments show in all the work we do, and we are excited to help everyone in the Clark County area, from beginners to masters, to make sure their instruments look and sound their best. Our service offerings include:
Instrument sales: We are especially proud to offer fine, custom-made violins, violas and cellos, all made in house by Mark Moreland. We also offer a selection of fine workshop instruments produced by Robert Thomas, Robert Crosby, Ian Martin, Francisco Bellini, Giovanni Galiera, Louis Deforges, Johannes Gruber and more.
Instrument repair: We offer repairs on any violins, violas or cellos, all performed with a careful eye to the artistic and musical integrity of the instrument. For older instruments, we are pleased to be able to provide violin restoration in Clark County, WA.
Appraisals: Do you wonder how much your antique violin might be worth? We offer violin appraisals in Clark County, WA, for insurance purposes.
Rentals: Whether you need an instrument for a special engagement or you just want to try one out in the comfort of your own home, we offer violin, cello and viola rentals to fit your needs.
Accessories: Because you never know when you might need new accessories or supplies, we carry a variety of bows, strings, shoulder pads, rosins and other items you might need.
We carry our own personally hand-tailored and professionaly handcrafted violins, cellos, and violas which include brands such as Mark D. Moreland, Paul Heart / Mark D. Moreland, Robert Thomas, Robert A. Corsby, Ian L. Martin, Francisco Bellini, Giovanni Galiera, Louis Deforges, Johanes Gruber, and more.
For all of your stringed instrument needs, including violin repairs, in Clark County, WA, call Mark Moreland Violin Shop at 360-723-5385. Come find out why we've been a premier source for violin services for nearly 40 years.